About Fluoride Treatments
There are adults and children who don't follow a good dental care routine and this can cause a lifetime of infections and cavities. To improve weakened or developing teeth, a special fluoride treatment may be given at DentalWorks - Greensboro by our dentists in Greensboro, NC to remineralize and strengthen the dental enamel. Fluoride is a naturally-occurring mineral that is usually added to city water systems. In addition, it is also in many dental care products in small amounts to strengthen the teeth. A professional fluoride treatment at DentalWorks - Greensboro uses a safe, but strong dose of fluoride to guard the teeth against decay. Fluoride treatments can be administered in three forms (gel, foam, varnish) with two different kinds of fluoride. This includes neutral sodium fluoride for those who have dry mouth and dental work or acidulated phosphate fluoride for normal teeth.
Reviews
"An amazing experience from start to finish- Dr. Lam knows his stuff and he was quick! My daughter had all 4 of her impacted wisdom teeth extracted with sedation and we were in and out in an hour. The staff was wonderful the assistants Amanda, Yvonne and Alli took such good care of my daughter and Amanda took time to really review after care with us so we knew what to do after. Front desk staff to the kind assistant that wheeled her out after the surgery were so pleasant and friendly. I would highly recommend this office!"
- M.R. /
Google /
Jul 24, 2017
"Dr. Aguero is great. Shows genuine interest in her patients and doing her best for them. Dianna is a wonderful addition to an already excellent staff. She's puts you at ease immediately."
- G.B. /
Google /
Jul 17, 2017
"Everyone at Dental Works is super friendly! Love Dr Betty and all the staff! Brittney is the best dental hygienist!"
- D.S. /
Google /
Jul 10, 2017
"A little bit of a wait, but worth it. Had four different specialist help me, and all of them were super nice and kept me informed of everything that they were doing. First time I've actually had a dentist give me a price for something and explain pros and cons before signing me up for a procedure. I felt completely informed and in control of my own treatment. Person who did my paperwork (wish I had caught her name) was awesome, showed me how to deal with insurance forms and itemized all my expenses, even told me I could come back into the office to get help with forms if I needed it. I just picked them cause they were supposedly inexpensive according to Google, and because they were in-network for me, but turned out to be a great choice!"
- K.H. /
Google /
Jul 10, 2017
"They did an excellent job on cleaning my teeth. I love Dr. A, she always explains every thing to me, so that I understand exactly what needs to be done."
- D.C. /
Google /
Jul 03, 2017
Previous
Next
Fluoride treatments are frequently given every six months after the patient's dental exam and cleaning or as often as our dentists suggest. The clean teeth are dried to prevent watering down the concentration of the fluoride, then the treatment is given to the patient as a gel, foam, or paint-on varnish that is applied for a few minutes. To make fluoride treatments more pleasant, our dentists will usually include a flavor chosen by the patient. Once the fluoride treatment is finished, patients should be certain to spit all fluoride out of their mouth to avoid negative reactions after the fluoride treatment.
To confirm the fluoride treatment completely treats the teeth, patients should not eat, drink, or smoke for at least half an hour after their fluoride procedure. Consuming any of the fluoride may lead to short-term stomach aches, but this should not last more than a day. While fluoride can be toxic in large amounts, our dentists are careful to give each person an appropriate amount of fluoride during their treatment at DentalWorks - Greensboro.
Professional fluoride treatments are considered a proactive procedure and are often paid for by insurance for younger patients who are 6 months - 16 years old two times a year as their teeth are forming. Insurance coverage for a patient over 16 who gets a fluoride treatment differs, so DentalWorks - Greensboro will check the patient's policy benefits and calculate their out-of-pocket costs. For patients who don't have dental insurance coverage, DentalWorks - Greensboro offers many payment options and financing plans.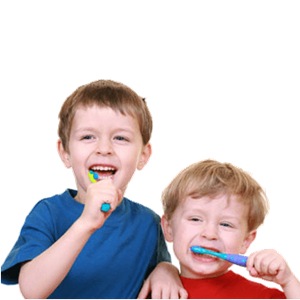 To improve younger patient's growing teeth or adults who often get decay, a professional fluoride treatment following a dental cleaning and exam at DentalWorks - Greensboro can protect and strengthen the teeth enamel. Ask our dentists about the value of fluoride treatments in DentalWorks - Greensboro's Greensboro, NC office and prescription fluoride treatments for at home. This will help to remineralize the dental enamel and minimize the possibility of decay and cavities for improved dental health.
Related Procedures